The MacGuffin
The MacGuffin - Vol. 34, No. 2 (Spring 2018)
Our Price:

$7.00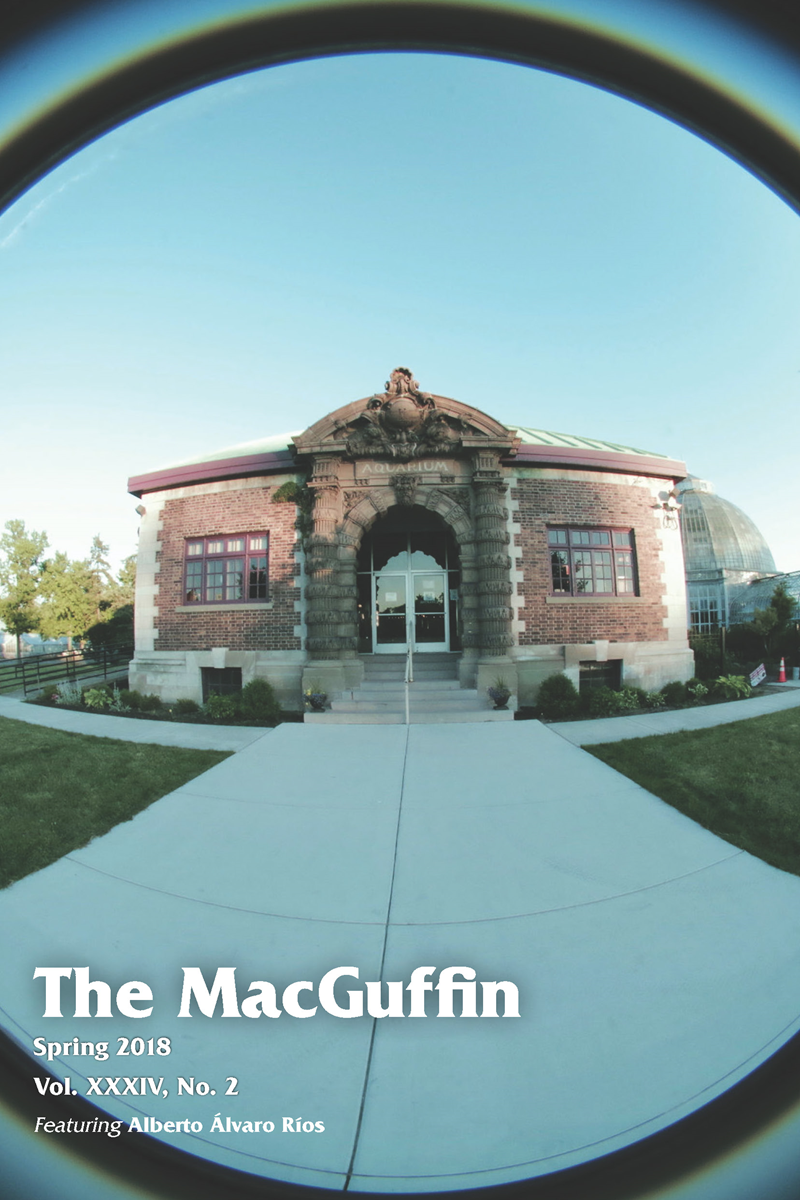 enlarge image
Product Description
The MacGuffin's Spring 2018 issue features new poetry by Poet Hunt 23 guest judge, Alberto Álvaro Ríos. Sonja Johanson submits an ode to her favorite amphibians Jim Daniels remembers an important moment in DiPalma's "Blow Out." This issue's prose selections include Brenna Lemieux's "Following Suit," a novel family drama with a bit of a twist ending, and Stephen Hundley's "Elsohn," a masterful narrative about dealing with the cards that are given to—or forced upon—you. Two pieces of creative nonfiction this time: Tamara Adleman's "Life Is Short, But Art Is Long" and Barbara Rebbeck's chilling "The Russians are coming…".
In this issue:
5: Lew Forester – March Comes In
6: Lew Forester – Ribs
7-17: Elizabeth Burton – At the Tomb of the Fragrant Concubine
18-21: Kathryn Brown Ramsperger – Unconditional
22-23: Barbara J. Rebbeck – The Russians are coming…
24-25: Rosemary Dunn Moeller – How the Village Breathes
26: Diane Dickinson – At Dusk in Yuya Onsen
27-33: Phil Gallos – Saffron Gold and Fire Engine Red
34-44: Michael Pikna – Beloved Son
45-53: David C. Metz – Nick and Lorraine Were Lovers
54: Kevin Burris – March
55: Kevin Burris – Fat Tuesday
56: Sonja Johanson – Ode to the Frogs
57-65: Joe Fortunato – Brane Storm
66-75: Rebecca Reynolds – Grace Period
76-86: Mary Carolyn Morgan – The Rich Man
87: Alberto Álvaro Ríos – Biographical Statement
88: Alberto Álvaro Ríos – ¡Azúcar!
89: Alberto Álvaro Ríos – Salted Watermelon
90: Alberto Álvaro Ríos – In Service to Service
91: Alberto Álvaro Ríos – The Black Screen
92: Alberto Álvaro Ríos – The Barrel Cactuses of the Northern Sonoran Desert
93-96: Adam Reger – The Pedestal of the World
97: William C. Crawford – Blossoms From a Painter's Palette
98: William C. Crawford – Petite Pink
99-105: Saramanda Swigart – Mushroom Cloud
106-107: Bethany Snyder – At Ease
108: Jim Daniels – Road Scholars
109: Jim Daniels – Watching "Blow Out"
110: Charles Laird Calia – Bird Strike
111-117: Alfredo Franco – Shudderbrook
118-120: Tamara Adelman – Life Is Short, But Art Is Long
121-128: Jason Brandt Schaefer – Audrey Watched
129-137: Stephen Hundley – Elsohn
138: Barbara Crooker – Saltines
139: Stephen Black – Missing, Memphis
140-143: Isabel Brome Gaddis – These Hovering Ballrooms Aren't Going to Build Themselves
144-152: Brenna Lemiux – Following Suit
153: Rosemary Dunn Moeller – Cacophony to Quiet
154: Lynn DeTurk – Heading Inland, Going Home
151: Sarah Brown Weitzman – Monet in Winter
152: Joseph Powell – The Last Bee
153: Linda Nemec Foster – The Young Girl in Her Father's Garden
154-157: Contributor Notes
Edition 34Binding None