The MacGuffin
The MacGuffin - Vol. 36, No. 2 (Spring 2020)
Our Price:

$7.00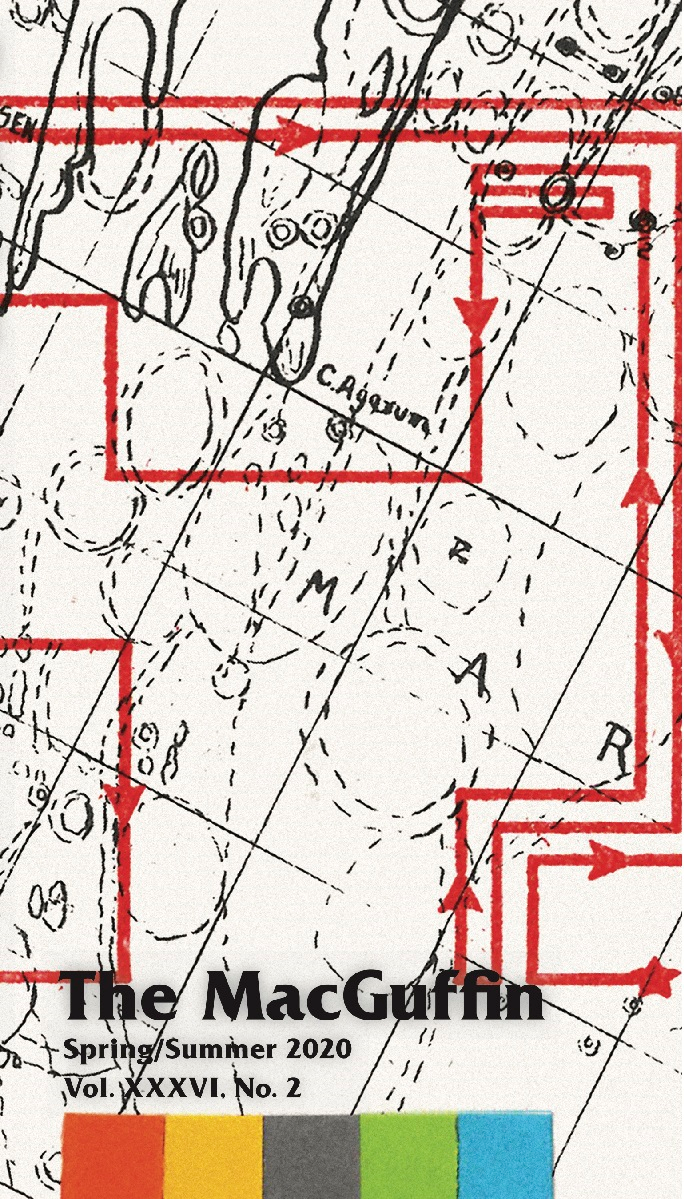 enlarge image
Product Description
Evan D. Williams' Escape Risk on the cover of The MacGuffin's volume 36.2 charts a vivid route out via literature of whatever quarantine situation you may find yourself trapped in. Journey to a new home and a new job in Mark Halpern's "Would You Like Fries with That?," or head out on a cinematic cross-country trek with grandma in Jordan J.A. Hill's "Marching Towards Golgotha." Matthew Olzmann—guest judge of this year's Poet Hunt contest—is highlighted in a short feature that begins on p. 101, while Erin Schalk's gouache, ink, and wax form a vibrant mid-volume oasis.
In this issue:
6: Tricia Knoll – Book Heaven
7: Amy Seifried – The Sleeping Gypsy
8-16: Philip Laird – You've Never Heard of Gertrude Walsh
17: Nigel Ford – Busker
18-22: Christine Holmstrom – Mean Boys
23: Cindy Frenkel – Three Generations
24: Cindy Frenkel – In the Classroom
25: Cindy Frenkel – Keeping Quiet
26-34: Mark Halpern – Would You Like Fries with That?
35-39: Brianna Saucier – Mole
40-45: B.A. Van Sise – Hoping You Are Too
46: Helen Britton – The Court
47: Helen Britton – Taking the Heat
48-49: Kevin Dale Ward – The Line Crew
50-59: Jean Hey – The White Mercedes
60-67: Yizhou Peng – Where the Elves Are
68: John Robinson – Spider
69: Tricia Knoll – On Loneliness
70-71: Karin Hoffecker – These Days
72-79: David Pratt – One More Altar Call
80-82: Rita Plush – Ordinary Lives
83-84: Rebecca Ruth Gould – Hands
85-96: Kim Farleigh – Alignment
97: Erin Schalk – Estuary
98: Erin Schalk – Cellular Pathway
99: Erin Schalk – Bouquet
100: Erin Schalk – Melody I
101: Matthew Olzmann – Omphaloskepsis
102-103: Matthew Olzmann – Letter to Matthew Olzmann, Sent Telepathically from a Flock of Pigeons While Surrounding Him on a Park Bench in Detroit, Michigan
104-105: Matthew Olzmann – Letter to a Canyon
106: Matthew Olzmann – Biographical Statement
107-113: Catherine Stansfield – I See Dead People and Other Gags
114-116: Jan Jolly – Freedom
117-125: Lauren Marie Schmidt – The Players
126: Amy Seifried – Café Terrace at Night
127: Helen Britton – Danny
128: Deboarah H. Doolittle – Fixated
129-136: Jordan J.A. Hill – Marching Towards Golgotha
137-143: Scott Pedersen – The Ring
144-145: David Anthony Sam – Silence Lacks Its Author
146: David Anthony Sam – First Birthday
147-151: Cynthia Yancey – Cultural Stretches
152-153: Yuliia Vereta – Covered in Violets
154: Amy Seifried – Things with Feathers
155: David Anthony Sam – Walking South on Water Street
156: Daniel E. Blackston – Rock Star Honeybee
157-160: Contributor Notes
Edition 36Binding None